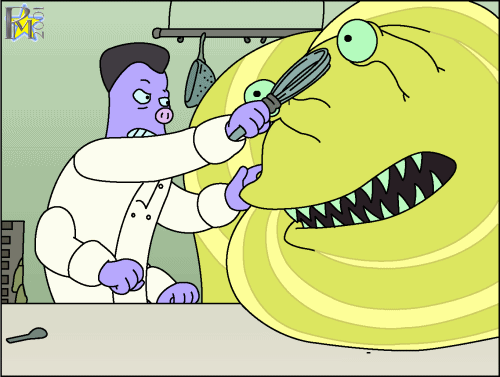 I would like to be a Neptunian from
Futurama
. That way I'd always have a set of hands to be knitting while I went about doing all of the other things that must be done.
(this is Elzar, a Neptunian cook taking on a slug).
Today I painted the interior of the two front doors. I'll share a photo later on when I have my camera. I seem to have left at work last week. The boys have definitely not enjoyed the day in the upstairs bathroom. They have all the necessities, food, litter, places to sleep, yet they are still scheming on ways of escaping their confines.
Mac did dart out when The Boyfriend wasn't looking. He made a beeline downstairs are rubbed on the wet door frame leaving lots of his fluffy hairs behind. Luckily I immediately caught him (although he was doing his favorite thing
running away purring
). The damage was repaired and some how Mac came out of it paint free and purring.
I was thinking about it, and in the 41 months that we've lived here, I've painted the following…
One wall in the master bedroom
Downstairs bathroom
Upstairs bathroom
Bue half of the living room
Laundry Room
Cathedral Ceiling
Upstairs bathroom
Downstairs bathroom
The Front doors

That just leaves the kitchen, dining room, and guest room without my handy work. I'd say that's pretty good for someone who doesn't like to paint. I think the kitchen is next on the list. The wine color could really use a fresh coat. I think darker colors show more dings and scratches.

For fear of ending up on CuseGirls list of knit bloggers without knitting content, I must inform you of today's total so far. 1,525 yards! I didn't think it was possible but the goal does seem to be within my grasp. I need another 235 yards before next Tuesday. That's totally doable!! I will be thrilled to start my April challenge which will be the April Apparel Aspiration. Last week I began knitting one of Julie's designs for an A-shaped sweater using one of our new yarns. I would love to finish the sweater in time to wear it this year. I am two inches into the sweater but after watching Meow Meow Head bust through garment after garment in the time it takes me to knit a couple pairs of socks (typically a week a sock). I'm hoping I can pull this off.